Certification in Youth Mental Health First Aid
We are very pleased to be once again offering in-person training and certification in Youth Mental Health First Aid (YMHFA) in partnership with the Marlene Meyerson JCC and BBYO's Center for Adolescent Wellness.
Youth Mental Health First Aid USA introduces participants to the unique risk factors and warning signs of mental health problems in adolescents, builds understanding of the importance of early intervention, and teaches individuals how to help a tween aged ages 12-18 in crisis or experiencing a mental health challenge. Our program is rooted in Jewish wisdom and has role playing and simulations specifically designed for Jewish institutional settings.
Join us at the JCC on Manhattan's Upper West Side, Wednesday, November 29, 7:00-9:30 p.m. and Thursday, November 30, 6:30-9:00 p.m. The first 2-hours are conducted virtually on your own time, with a 4-hour in-person component. We hope that this timing is particularly ideal for part-time Jewish youth professionals who are unavailable during the day. After registering, you will be sent the information for the 2-hour self-paced portion of the course. You must complete the 2-hour training BEFORE joining the in-person portion on November 29.
This certification program is offered free of charge. 
Dinner will be provided.
Not available for in-person training in Manhattan? Join The Jewish Education Project and BeWell for a full day of online certification. Are you a teen who would like to certified in Mental Health First Aid? Be trained by the Marlene Meyerson JCC and BBYO Center for Adolescent Wellness.
In partnership with: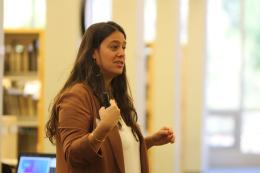 Drew Fidler
Drew Fidler, LCSW-C, is the Director of the BBYO Center for Adolescent Wellness, where she helps ensure that BBYO and other Youth Serving Organizations are places where adolescents can thrive through institutional best practices in health and wellness. Prior to joining BBYO, Drew worked for Baltimore Child Abuse Center as a Forensic Interviewer, Policy and Program Development Manager, and then as the Director of Prevention and Education. She also worked with youth serving organizations to analyze their systems relating to protecting youth and creating safe environments, conducts trainings, and creates programs for organizations. Drew has trained over 1,000 professionals on how to protect children and their own organization from incident. Drew's career has focused on aiding youth serving organizations and their staff in understanding children's mental health issues, and best supporting and advocating for their needs. Drew has an MSW from New York University and a BA in Psychology from Skidmore College.