Voting with a Feminist Lens: A Workshop for Teens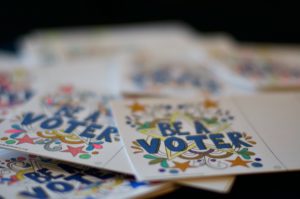 Personal values play a large role in deciding which issues are meaningful to you as a voter and which decisions you make on election day. The purpose of this workshop series/curriculum is to engage participants in viewing matters of voting through a feminist lens. Over the course of sessions, the curriculum will cover:
the importance of voting (with emphasis on the history of the women's suffrage movement);
the logistics of voting and voter registration; how women's rights relate to social, political, and economic issues;
and choosing a candidate that represents your values.
This workshop is meant to be as objective as possible and welcomes perspectives across the spectrum of political ideologies. Political ideology is not the focus of this workshop; rather, this workshop curriculum should be used to educate soon-to-be voters and newly-registered voters on the importance of not only voting but making their votes meaningful.
This curriculum was developed by Danielle Gruber, a second-year Kol Koleinu Fellow. Moving Tradition's Kol Koleinu fellowship, offered in collaboration with NFTY and USY, invites young Jewish feminists to explore and deepen their feminist knowledge and use their skills to create tangible change in their communities. 
Danielle Gruber is a senior at Village School in Great Neck, NY. She enjoys being outdoors and playing music, and currently works at the Laboratory for Computational Neurodiagnostics at Stony Brook. She is a member of the Reconstructionist Synagogue of the North Shore in Plandome, NY and is a Rosh Hodesh alumna.