Networks
HaAtid Network for Emerging Early Childhood Educators
About this Network:
The HaAtid Network For Emerging Early Childhood Educators is an opportunity from The Jewish Education Project and the Jewish Early Childhood Association (JECA) to create a dynamic cohort experience for emerging early childhood professionals in the greater New York area. Each network session will be led by professionals from The Jewish Education Project and Teaching Beyond the Square. Participants will also meet with expert mentor teachers in the field who will support the educator throughout the year. 
Additional Information:
Schools must be JECA members in order to participate. Contact Ronnie Becher for more info on how to become a member. 
About the Facilitator: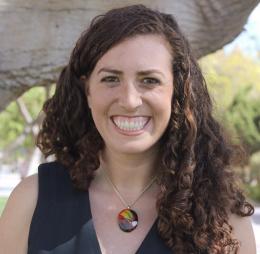 Sasha Kopp
Sasha Kopp is a Communal Education Consultant working on the Early Childhood and Family Engagement team. She holds an MA in both Jewish Education and Jewish Non-Profit Management from Hebrew Union College, and a BA from Brandeis University in Sociology and Education Studies. In addition to her work at The Jewish Education Project she is an adjunct professor at American Jewish University's online masters program in Jewish early childhood education. Sasha has previously worked as the Assistant Early Childhood Director at Central Synagogue, and as a Judaic specialist, Atelierista, Curriculum Specialist, and classroom teacher in Jewish early childhood centers in Los Angeles and Boston. Sasha is also a fused glass artist and educator who seeks to teach, empower and connect students to each other, art and the community. Through both her work in art, and in education,  Sasha works to bring creativity and play wherever she goes. 
NETWORK STORY:
"One unique feature about this network is…" the mentorship component. Each participant is matched with a mentor who they will be in touch with throughout the year. Additionally they will have the opportunity to visit their mentor's school and to have their mentor visit their school. It's a unique experience. 
"Why did I join the HaAtid Netowrk"  
"I want to incorporate more Judaism into my social/emotional curriculum, to help my students build themselves up as good people, not just good students."
"One quote from a past participants:"I have learned SO much and sad it is over- I wish it could continue for another year. 
When

Thursdays and Wednesdays 10:30 AM ET

October 26, November 9, December 6, December 14, January 11, February 1, March 1, April 19, May 3, and May 24

Facilitator

Sasha Kopp

Format

Virtual

New members

Open

Target audience

Educator / Teacher / Youth Professional

Geographic regions

Bronx

Brooklyn

Long Island

Manhattan

Queens

Staten Island

Westchester

Area of work

Early Childhood